"A copy of security or, from now on, computer Backup is a literal copy of the original data that is carried out in order to have these data in case of loss."
Put it more simple, copy what interests us in several places for that, in the event of one failure, be able to have them.
How to do Backup-home
At home we have very "easy". Recently services are launching to perform this type of actions (coming soon an analysis of them), some free others pay but all are based on the same store backups in another place that is not our team.
Copies of security in the enterprise
In the company however is rather more complicated since usually with amounts far greater than domestic level, the hiring of space is sometimes more complicated than it may seem.
3-2-1 rule of Backups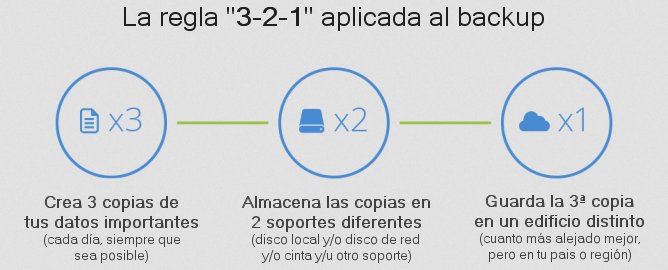 There are rules for everything in this life and Yes, also there are for backups. It could not be otherwise. This rule is called 3-2-1 and their statement reads as follows:
At least 3 copies of the information.
At least in 2 different formats.
At least 1 copy should be off – site or out of the place.
Let's look at this rule.
We must have our information at least in triplicate, IE in a USB, on our own PC and Drive, for example.
We have two different formats, for example to have it on a DVD and on our PC would be two different formats. Attention! Have it on an external hard drive and the PC is not valid since they are both hard drives!
Having a copy outside the workplace you make sure of that, even if the unimaginable happens in the office or home, you make sure that the information still exists elsewhere.