We have previously explained how to make a strong password
Here I put the passwords used in this last year 2015.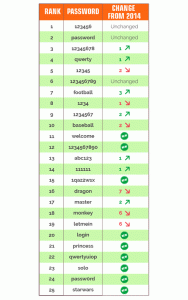 Continue to use Basic password "123456" and "password", but they have already begun to leave new passwords like "starwars" so we can already go saying that the thing is beginning to change, at least when we see in position 24 "passw0rd".
You can use the HowSecureIsMyPassword page. Runs completely offline and tells you how much time could take to get your password.