Everyone knows we have two ways to connect to a router. By cable or WiFi (guifi for the hamijos). We will learn various notions of because it is preferable to use a cable to WiFi.
Small notions of Wi-Fi 2, 4 GHz
1. -WiFi 2.4 G has 13 channels allowed in Spain.
2. -Channels is step on each other.
3. -The only channels that will not step on each other they are 1, 6 and 11.
4. -A router automatic system calculates which of the channels 1 to 12 have lower occupation and assigned.
5. -Because, I like to always have 5 notions…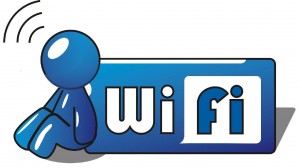 We have different versions of Wi-Fi, the example with WiFi N, the more common currently.
Use a device with Wireless N technology means you will be able to use, in an ideal environment, up to 440Mbps of bandwidth.
-A wireless device can consume up to 40% of their bandwidth to manage the transfer of packages, with what actual speed is disminuiria to about approximately 260Mbps.
-Have said that that figure is an ideal environment, i.e. If you live in Green Bank, perfect, but as it isn't, we have more losses by the fact of existing walls. Let's take a look at something "realistic"… 30% loss by obstacles. We stayed in a few 200Mbps.
-Following the parallelism, as you do not live in Green Bank, other people close to you, insurance has WiFi… As we have read makes 2 lines, we need to share the medium (air) with more signals on the same frequency, with "plain" our WiFi is giving of "wafers" with the WiFi from the neighbor in the first, and of the low b, and of the low block of the two laos b, and with the good aunt that you like the second to , etc…
-Now you have thought, expected, puts the channel 1 to 12, but allowed 13… Yes, that's because the configuration of all devices prepared for Spain, come with 12 channels. Channel 13 have to unlock it, if not, directly we will not see the WiFi (some devices only).
-My occupation of the channel is 0. Despite being in a fairly large community, only I need Channel 13 and channel more separated from the rest, so not as many people, bothers me hehe.
What have we learned?
-We have seen that it is better to use a cable to WiFi. Will what I said in the first line, only that I have not believed, and you had to read all the post…
-We have seen that the WiFi is like Iñaki Lopez, tries to mediate all speak at the same time, but it never gets it. It loses 40% of bandwidth.
-We have seen that WiFi is given of wafers with walls, losing 30% of bandwidth.
-We have seen that the WiFi it loves to be accompanied. You may lose what's left of bandwidth because of socializing with other's WiFi.